COMPUTER ASSISTED SURGERY, VOL 22, 2017 – ISSUE 1
Computer Assisted Surgery is an open access journal that aims to improve patient care by publishing research which advances the use of computers during surgical treatment. The CathCAD® software was utilized by researchers in designing a sensorized guiding catheter (Authors: Roberta Piazza, Sara Condino, Aldo Alberti, Raffaella Nice Berchiolli, Gioachino Coppi, Marco Gesi).

HVAC MONITORING
The mCerberus® 400 Series is the HVAC monitoring system that can be installed in fifteen minutes on home or business central (forced air) air conditioning and heating systems. The System is designed for the HVAC Contractor who may require the capability to monitor hundreds of installations as well as the home or business owner that requires the ability to self-monitor their own unit(s). Our back end SOFTWARE application analyzes the data obtained by the hardware unit and determines the current state of the HVAC system.
For more information please see our website at www.mHVACmonitor.com
BRAIDER MONITORING
One of the application of the mCerberus® MCB-100 device is with the monitoring of Steeger Braiders. Steeger Braiders are the braider of choice in the Medical Device industry used for the reinforcement of composite tubing utilized in interventional catheters.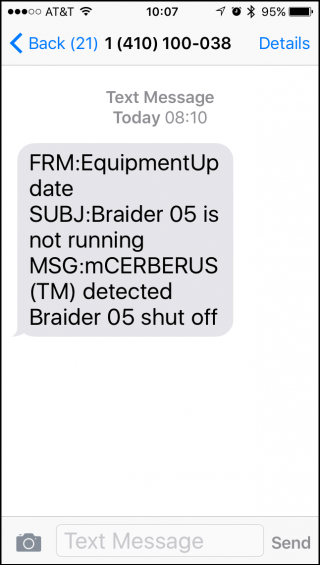 This product is an independent hardware solution that allows the Engineer or Technician to be notified if and when the braider "shuts down" for any reason. Your Technicians can be alerted immediately on the weekends when a Braider running unattended shuts down due to a broken braid wire, empty bobbin, or due to a power interruption.